Match day gifts and retail items that are unique and inspiring, 3D crystal awards, only by Munich 72 Trophies
Are you looking for something completely unique and truly different to promote your brand? Munich 72 Trophies are proud to present our stunning range of 3D crystal awards. Each award is made from a block of the finest crystal glass, chosen for its exceptional clarity and stunning reflective qualities. Your chosen image and corporate branding are engraved within the glass block using sophisticated laser technology. The result is a three dimensional image which is striking to behold and presents your brand in an innovative and memorable way.
How to order
It's simple, our expert design team can turn your idea into reality with just one call or email
Call or email today
07742 634 867
marc@munichtrophies.co.uk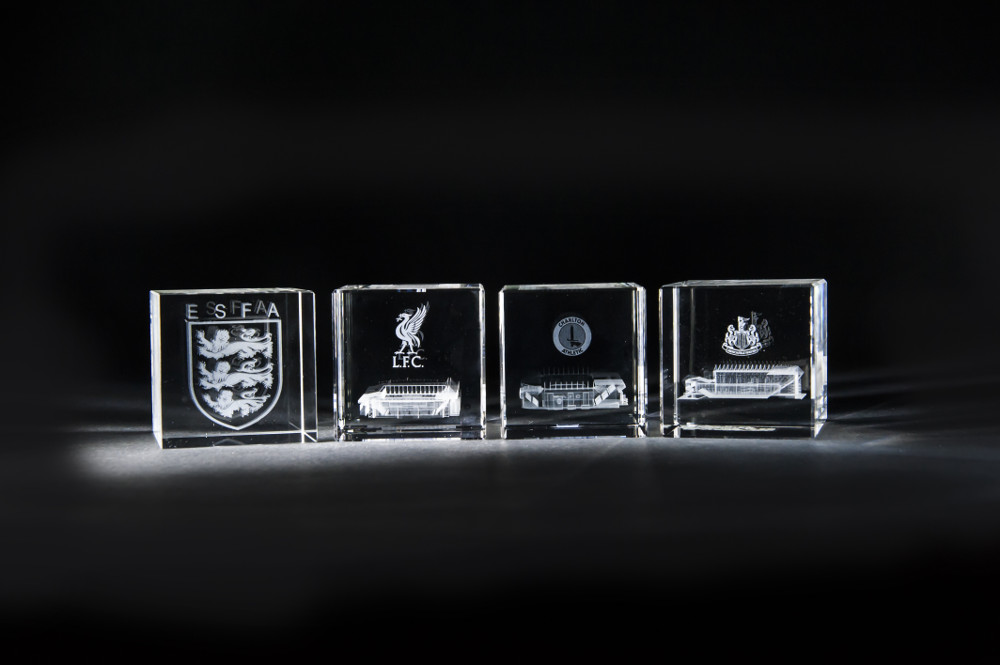 At Munich 72 Trophies we have a proud tradition of supplying awards to clients ranging from local clubs to global brands.
These 3D Crystal Awards demonstrate our innovative and consultative approach with our clients. We are proactive in understanding our client's needs and this is how this completely unique awards / gift range has been developed.
When you approach us to make your 3D crystal award, we will help you to choose an appropriate image for your product. We can work with images you present to us. Our expert designers can also advise you on how to design an image unique to your award.
Once your image is chosen, we will use our laser crystal engraving machine to focus a high intensity laser beam into a block of high calibre crystal. Our computer technology will accurately map every point of your image inside the crystal. The beauty of laser engraving is that the inside of the crystal can be engraved whilst the surface is left unmarked. Furthermore our lasers can capture every detail with exceptional precision and clarity. At the end of the process you will have a beautiful crystal block with an accurate three dimensional rendering of your image right inside the glass.
Ordering Process
Email us photographs of the stadium
Receive your artwork for approval within just 24 hours
Upon confirmation of artwork, your 3D Cube will be ready within 8 weeks
Get in touch today and let us create a unique product for your brand
❝ Munich 72 Trophies recently supplied 3D glass cubes with Wembley Stadium and the Wembley logo etched inside. The striking cubes are supplied in black stylish presentation boxes with a Wembley logo printed on the lid. This product has been selling well in the Stadium Store and has also proved a very popular corporate gift – an all-round great product! ❞
Kellie Hazleton
Retail & Merchandise Manager, Wembley Stadium
❝ After the longest running planning application in football history we finally opened our magnificent new American Express Community Stadium in July 2011. I asked Marc at Munich 72 Trophies to come up with designs for a product that we could offer not only to our Amex and BHAFC sponsors, but also to generate sales in the club merchandise stores. The product he came up with was an excellent solid glass cube with the stadium lasered inside – complete with a striking presentation box. Suffice to say the cubes not only went down very well with the sponsors but have also proved to be a very popular item with our fans. ❞
Ian Green
Head of Retail, Brighton & Hove Albion FC
❝ We at Charlton Athletic Football Club have been working with Marc Cowcher (Munich 72 Trophies) for a numbers of years. The products which have been supplied over a number of seasons are of top quality and have been well received from all our hospitality members.
This year we received a cube with an image of the stadium in 3D which comes with a neat case, this in particular has gone down extremely well. Simply fantastic!
The service is quick and never disappointing. ❞
Ravi Patel
Charlton Athletic Football Club
WANT TO KNOW MORE?
If you would like to talk to us about your trophy, awards or merchandising requirements, call us on 07742 634 867 or fill in this form.
Working with Munich 72 Trophies means that you will receive a personal service, from a market leading company. We have clients ranging from local community clubs to global brands and as our customer you will receive a dedicated service from our knowledgeable team.
We work in partnership with our clients, always striving to find ways to help you promote your brand, club, company or league in a way that represents you perfectly and within your budget.
Our company was formed in 1973 and during that time, we have NEVER let a client down.
Get in touch to find out how we can help you. Please call us on 07742 634 867 or click here to visit the contact page.
If you are looking for awards, medals or trophies for your sporting or corporate event, please call us on